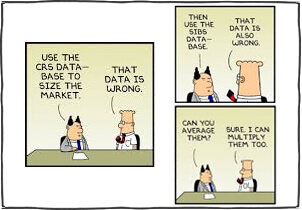 Here are some startling facts regarding the relentless flux and churn in US employment. On average, according to a 2015 U.S. Bureau of Labor Statistics Survey, people born during the latter years of baby-boom generation, held on average 11.7 jobs from age 18 to 48. Employment continuity, in new jobs taken, as one grows older, is alarmingly low. Of the total new jobs started by 40 to 48 year olds, 32 percent ended in less than a year.
What is noteworthy in this survey, is the high level of entropy in employment status of workers. A lot of people, even older workers, it appear are constantly on the move, from job to job. This poses significant challenges for B2B marketing.
If B2B databases are not maintained, data quality will degrade rapidly over time. There is nothing one can do to stop this natural degradation. Critical data elements - phone, address, email address, company name, and job title – will become obsolete soon. It is estimated, that in a typical B2B database, more than 3 percent of data can degrade every month. In other words, in a year, almost a third of the information can become out-of-date.
Data quality is a huge problem, since it is the key to successful B2B marketing. List quality drives results whether it is webinar registrations, conference recruitment, magazine subscriber acquisition, sales lead generation, or any other type of campaign. Marketers know that. Yet it is not uncommon to run into campaigns with 30 to 40 percent inaccurate records.
Why is that? If quality is so critical, why not shore up the data quality?
One of the main reason marketers tolerate poor quality data, is that the traditional data scrubbing techniques do not work very well. Updates using NCOA databases, Reverse Number Lookups, or Business Information Services often have old data. These big databases themselves suffer from data decay. And since these databases house millions of records verifying the accuracy of all of the data regularly – once every few months – is prohibitively expensive and impossible to do.
So is there no way out? Fortunately, with the widespread adoption of Social Media there is a way out.
To mitigate the impact of data decay, you need to compile Social Identifiers for customers in your database. Social IDs - LinkedIn ID, Twitter Handles – are permanent identifiers that can be used to keep data current. Remember, even when people change jobs, move to another region, get fired, start a company – Social IDs do not change. These Social IDs, can be mined to track changes in employment status and maintain quality of data.
Compiling Social IDs, for a large database, with tens of thousands of records is not easy to do. Social Networks have created barriers to prevent harvesting of this data. But there are ways to circumvent these hurdles while remaining compliant with the Networks Policies.A few service providers have solutions to do so.
Bottom line, leverage Social Media to reverse the data decay challenge.
Bottom line – given the problem at hand – you need to make sure you are compiling relevant data. In general, most predictive models, particularly of the type that Advancement Professionals need, require no more than 15 to 20 data attributes. Key is to make sure your data-collection strategy is smart enough and compiling this data.
Powering Annual Giving with Predictive Analytics
A Practical Approach to Account Based Marketing